ETERNAL HEART COLLECTION
For the last 6 months we have been busy, squirrelled away in our Melbourne studio working on something very special - and now it's time to share...
We are so excited to announce that we have today released a special new collection of silk and embellished wedding dresses and bridal accessories to mark the beginning of our 10-year anniversary celebrations!
Featuring vintage-inspired laces, hand-beading and our signature silk bows, our Eternal Heart Collection is an unapologetic celebration of all things sparkly, romantic and feminine, and pays tribute to some of our most cherished previous designs.
The collection is now available at our Melbourne boutique, all Australian and international Anna Campbell stockists, and via our website, where our Online Stylist, Bek, would love to help you get your dream dress started!
Read on to discover each, unique style from our ultra-romantic collection, Eternal Heart!
Photography Jessica Apap | Hair and Makeup Melonie Santos Flowers | Flos Botanical Studio
"Eternal Heart truly embraces everything we are about, and celebrates some of our most loved designs! From the intricate, shimming hand-beading and shoulder loops of the new Chloe Embellished Dress, to the guipure lace back detail and flowing silk tulle skirt of the Eleanor dress, this is absolutely a collection for the true 'Anna Campbell Bride'", said our fearless Girl Boss and Creative Director, Anna.
With a distinctive, hand-embellished illusion neckline, softly draped sleeves and open back, the romantic Adele brings a sense of refinement and effortless elegance. A hand-beaded ivory and silver floral motif adorns the bodice, extending as a sparking vine into the sheer tulle sleeves, shimming down the bride's back to finish in the classic Anna Campbell silk bow.
Draped tulle sleeves and a supported sweetheart bodice make the Adele a beautiful option for brides seeking an elegant neckline with a lot of Anna Campbell sparkle!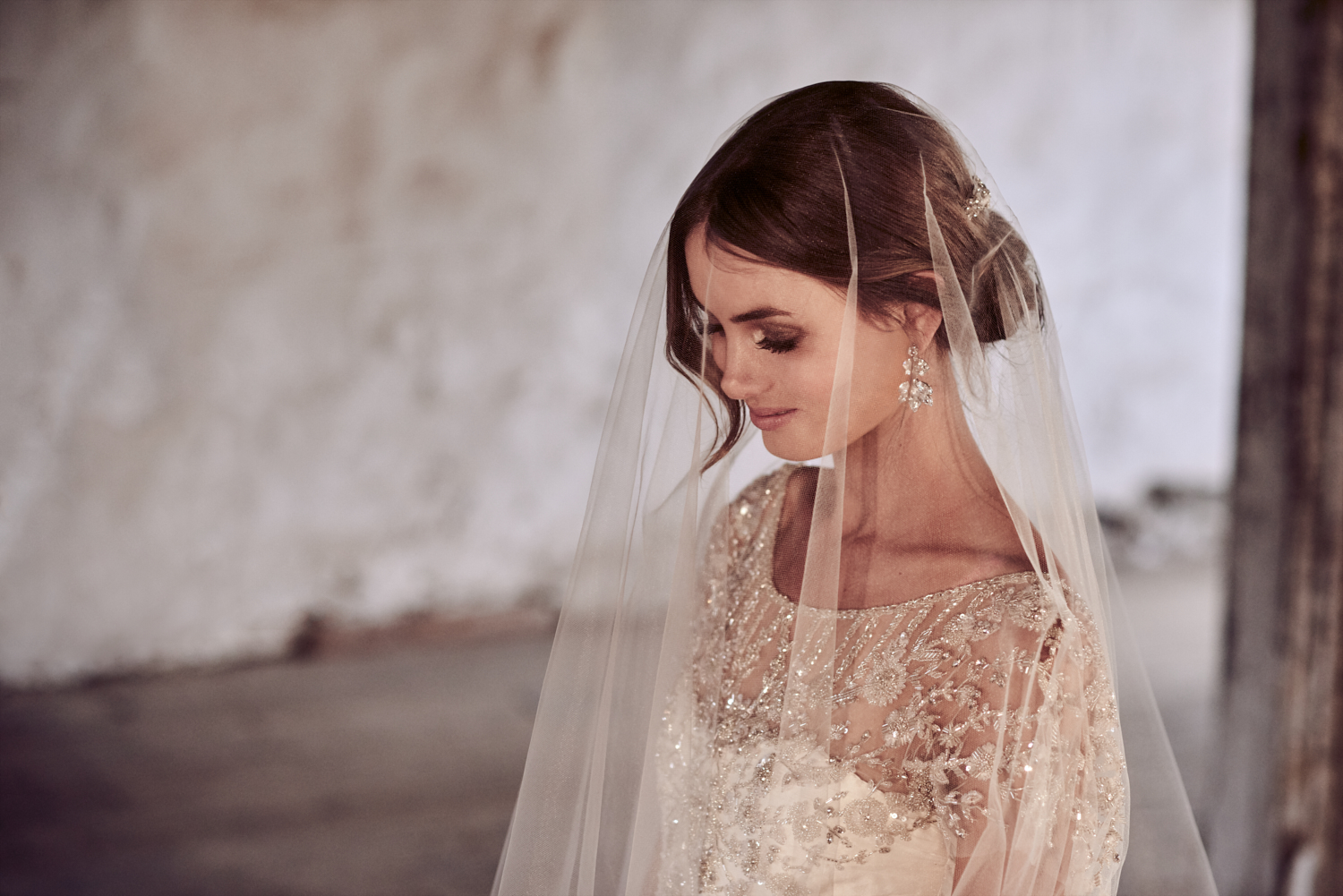 Featuring a flattering T-bar vintage guipure lace back detail that skims down the shoulder blades to finish in the classic Anna Campbell silk bow, the Eleanor is a romantic gown full of feminine charm. A strong ivory guipure lace adds a distinct modern element to this timeless and beautiful bridal look.
We've always been big believers in the idea that you should be able to create your dream dress, and so each style in our new 11-piece collection has customizable skirt options, including a form-fitting ivory guipure vintage lace (definitely an in-house fave!), flowing and romantic silk tulle, and entirely hand-embellished sequined laces, each creating high-impact bridal sparkle.
Romantic and truly glamorous, the embroidered lace of the Alyssa dress is embellished with softly shimmering sequins, creating understated sparkle for a timeless bridal look. Glowing skin peeks through the sheer tulle backing of the intricate lace shoulder detailing, combining with an open v-neckline to create sexy but subtle femininity.
Even more importantly, Anna has designed the Eternal Heart collection with flexibility in mind, meaning you can feel beautiful and unique, as well as comfortable, on your wedding day!
Yes, we did say comfortable! So often forgotten in the world of bridal design, our question always is: can you dance / sit / hug in this dress!? Because what's the fun of getting married if all you can do is stand still! Our unique dress structure, featuring a silk-covered elastic waist band, hidden with a sneaky system of silk wrap ties, cinches your waist to create a beautiful shape that doesn't come at the expense of having fun!
Inspired by a sense of bohemian free-spiritedness and the sexiness that comes with effortless elegance, the strapless sweetheart neckline – finished with delicate ivory fringing – is both youthful and timeless. A low, exposed back, finished with the romantic Anna Campbell silk bow, injects a sense of playfulness and modernity into an otherwise classic bridal silhouette. An ivory guipure vintage lace detail at the end of the train adds an unexpected and unique finishing touch.
Style with detachable, off-the-shoulder silk tulle sleeves for a different reception and ceremony look.
You can also become the designer, working with us to create your perfect combination of Anna Campbell dreaminess!
"Each of the Eternal Heart styles offer the interchangeable silk, lace and embellished skirt options as well as options to add additional 'Custom Sparkle' pieces to create a completely unique bridal look, customized to suit your style, figure and wedding plans! This means that, no matter what you have in mind, we can work with you to create and tailor your dress specifically to suite your shape and style – either at our flagship Melbourne boutique, or in partnership with our incredible stockists around the world!", said Anna.
Inspired by the Ruby dress, the silver and ivory-toned hand-beading of the Raine create sparkling highlights that will shimmer as you walk down the aisle. Narrow, feminine embellished straps show off an open back that leads to the classic Anna Campbell silk bow, while the v-shaped neckline, finished with silver hand-beading, creates an unforgettable bridal look.
Channeling understated romance and classic bridal elegance, the Bella is both youthful and timeless. A topper of fine ivory lace, finished with a high illusion neckline and delicate capped sleeves, is worn with the strapless Brooklyn sweetheart bodice dress. As the topper will come unattached to the strapless bodice, the Bella is the perfect dress to create different ceremony and reception looks – simply remove the topper after the ceremony for a strapless reception gown!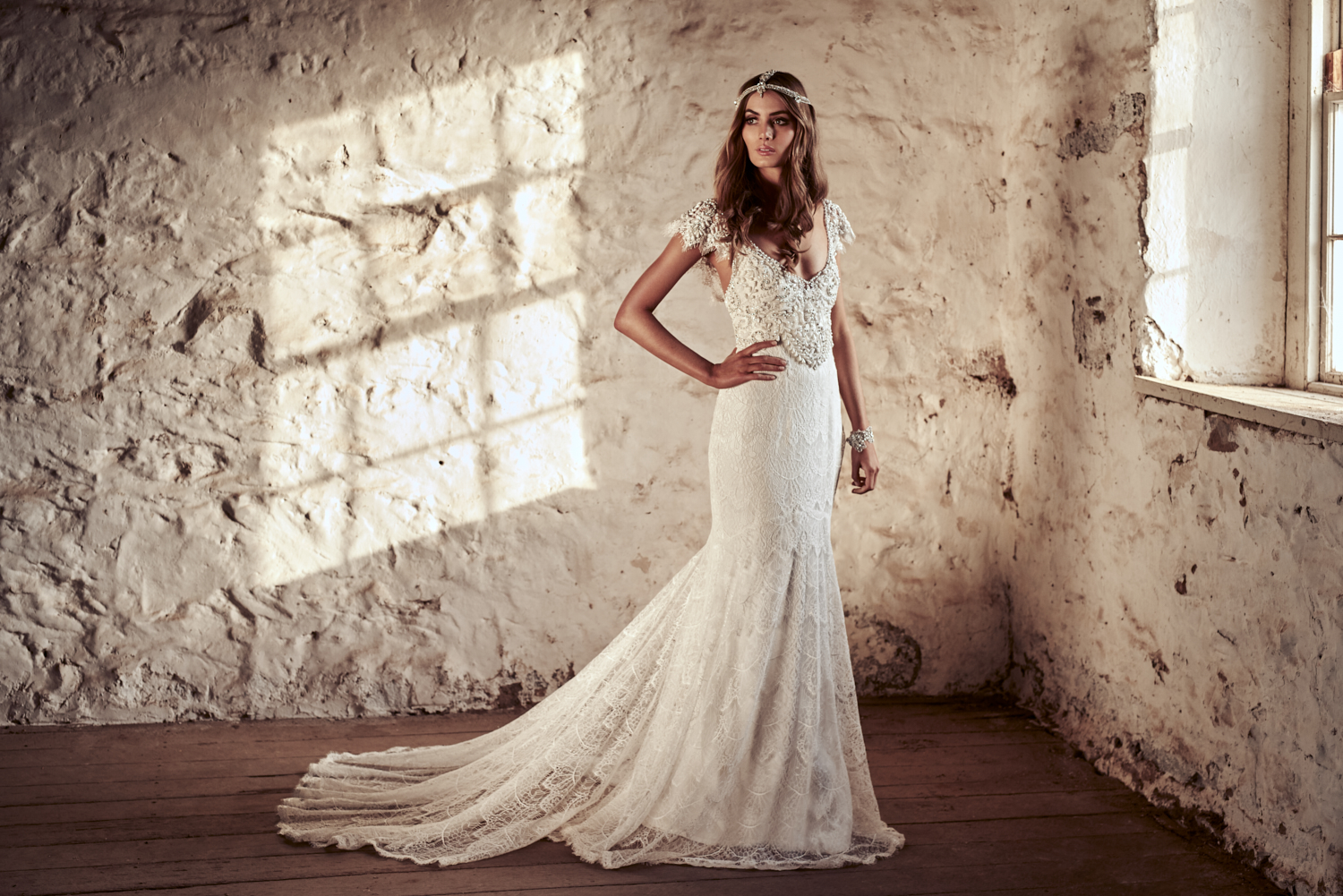 A bohemian beauty with effortless style, the delicate ivory lace and off-the-shoulder detail of the Mia are perfect for the relaxed, free-spirited bride. For extra sparkle, Mia can be personalised with Anna Campbell's exclusive Custom Sparkle range, or add a touch of glamour with a hand-beaded headpiece or sparkling drop earrings.